Black Jack® Bed Bug & Flea Fogger [Clean Fresh Scent] 3-pack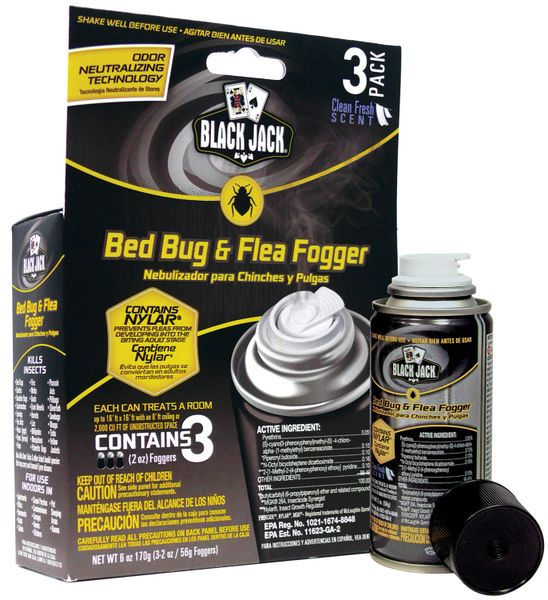 Black Jack® Bed Bug & Flea Fogger [Clean Fresh Scent] 3-pack
Black Jack® Bed Bug & Flea Fogger [Clean Fresh Scent] 3-pack

KILLS: bed bugs, fleas, lice, ticks, beetles, boxelder bugs, cockroaches, earwigs, fire ants, flea eggs, flea larvae, adult fleas, flies, flying moths, gnats, grain weevils, hornets, lice, millipedes, mosquitoes, palmetto bugs, pharaoh ants, pillbugs, silverfish, sowbugs, wasps, ticks & yellow jackets

Black Jack® Bed Bug & Flea Fogger contains Nylar® insect growth regulator to control hatching fleas before they develop into the biting adult stage and inhibits flea reinfestation up to 7 months. One can of this product treats up to 2,000 cubic feet of unobstructed space! PERFECT FOR USE IN: apartments, attics, basements, boats, cabins, closed porches, condominiums, garages, homes, kitchens, and pet sleeping areas.

• KILLS BED BUGS AND FLEAS: Black Jack® Bed Bug & Flea Fogger also controls lice, ticks and other listed insects
• CLEAN FRESH LINEN SCENT: Black Jack® Bed Bug & Flea Fogger contains odor neutralizing technology, leaving a pleasant clean, fresh scent.
• INHIBITS FLEA REINFESTATION: Inhibits reinfestation of fleas for up to 7 months
• CONTAINS NYLAR: Contains Nylar® insect growth regulatory to prevent fleas from developing into the biting adult stage
Use indoors in enclosed spaces such as apartments, attics, basements, boats, cabins, closed porches, condos, garages, homes, kitchens and pet sleeping areas. Between the carpool and the couch cushions, you own the home front. Take care of your family – and take care of business, no matter where household pests rear their ugly heads. Show bugs who's boss with Black Jack® insecticides. They're your weapon of choice, giving you the clear advantage within your walls and at the bank. When creepy bugs attempt to pass, save the day with Black Jack® insecticides.