Black Jack® Bed Bug Killer 64 fl. oz. (Trigger Hose Included!) Landlord's Formula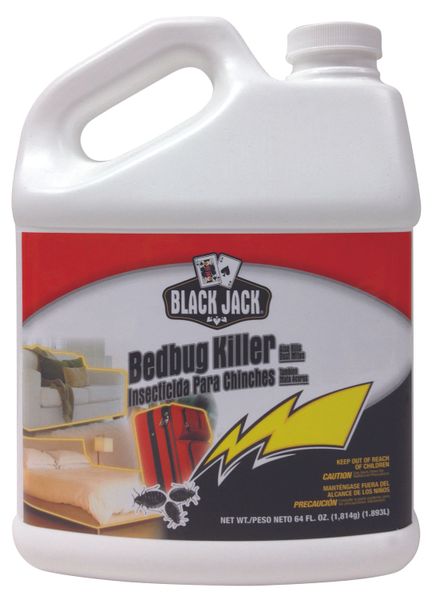 Black Jack® Bed Bug Killer 64 fl. oz. (Trigger Hose Included!) Landlord's Formula
Black Jack® Bed Bug Killer 64 fl. oz. (Trigger Hose Included!) Landlord's Formula

Child and Pet Friendly – Formulated with active ingredients approved by the Environmental Protection Agency as a minimal risk insecticide
Does not contain toxins or synthetic pesticides that may be harmful to you or the environment.
Extended Residual Protection – Kills bed bugs fast and continues to kill long after initial application.
Non Staining – Apply directly to the mattress and box spring without worry of the liquid staining surfaces.
Kills adults, nymphs & eggs fast on contact with 100% efficacy, even resistant bed bugs!
Can cuts down biting incidents immediately.
Proven extended residual protection even after dried.
Toxin-free and dermatologically safe; child, pet, bird and fish friendly.
Among a dozen products (including 2 professional-grade and 10 consumer-grade) labeled for bed bugs, Black Jack® Bed Bug Killer is by far the best in killing bed bugs. Black Jack® Bed Bug Killer is eco-friendly lethal to target insect pest. Its micro-scale particles of plant based active ingredients penetrate insects' exoskeleton and attack a unique neuron receptor that only exists in invertebrates to cause immediate paralysis and death of target insects. Unlike many synthetic pesticides imposing neuron toxicity to human, Black Jack® Bed Bug Killer only affects insect pests and causes no harm to human, pet, bird or fish. Black Jack® Bed Bug Killer provides residual efficacy. Due to repeat use of pesticides over the years, bed bugs developed high resistance. Black Jack® Bed Bug Killer, however, has the same high kill-rate on resistant bed bugs due to its unique mode of action. Because of its outstanding performance, Black Jack® Bed Bug Killer has become a preferred choice by pest management professionals as a primary method of IPM (integrated pest management) to reduce the use of synthetic chemicals.